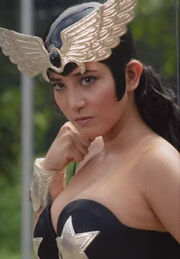 Katrina Halili (born Maria Katrina Iren Pe Halili on January 4, 1986) is a Filipina actress, commercial model and music producer. She plays the first ever Black Darna in Darna (2005 TV Series) and Serfina in Book Two of Darna (2009 TV series). She made her screen debut via StarStruck, but did not gain popularity until playing the antagonist roles in Darna, Majika and MariMar and becoming the protagonist in One Night Only, Gagambino and Magdusa Ka.
Background
[
]
Katrina Halili is an alumna of the StarStruck talent search and the cover girl of leading magazines such as FHM and Maxim Philippines. She was voted as FHM Philippines' sexiest woman for the year 2006 and bagged the title yet again in 2007. She is the first StarStruck contestant to top the FHM Philippines' 100 Sexiest list and the only Filipina celebrity to have won the title twice in a row. She is a three-time FHM Philippines covergirl.[1] With 123,000 votes, she placed 2nd in 2008 next to Marian Rivera.
Controversies
[
]
In May 2009, videos that show compromising encounters between Halili and Dr. Hayden Kho were distributed over the internet without her consent.[2] It was supposed that the person behind the leak of the videos to Internet was a certain Eric Johnson Chua, a close friend and fraternity brother of Hayden Kho.[3] Sen. Ramon Revilla Jr., in his privilege speech, denounced Kho's acts and would file a case for the removal of Dr. Kho's license.[4] She is also consulting with the women's rights group GABRIELA regarding the legal actions that will be placed against Kho.[5] She has since attended a Senate Hearing where she denounced Hayden Kho. Recently she filed a criminal case against the mother of Hayden Kho for libel before the Quezon City Prosecutors Office alleging that the latter made malicious remarks against her.[6] She has also filed against Dr. Kho for violation of Republic 9262 (Anti-Violence Against Women and Their Children).
Rosalinda
[
]
After months of stopping from work (due to the effect made by the scandal in which she was involved) she has been chosen as the antagonist of GMA 7's Philippine TV adaptation of Rosalinda (Philippine TV series).
Rumored Projects
[
]
She is rumored to play the lead role in the TV Remake of Carlo J. Caparas's Angela Markado, but there's no confirmation yet whether it is Katrina who will play the lead role, but it is a hundred percent that GMA Network will be doing a remake of Angela Markado soon.
Filmography
[
]
Television
[
]
Year
Title
Role
Network
Type Of Cast/Role
2003

StarStruck

herself
GMA Network
Guest Appearance
2004

Stage 1: The Starstruck Playhouse

SOP Gigsters

Joyride

Vicki
Main role
Forever in My Heart
Janelle
Supporting role / Antagonist
2005

Love To Love - Season 6: Wish Upon A Jar

-
Lead role / Antagonist

Love To Love - Season 9: Miss Match

Portia

Darna

Carol / Black Darna
Main Cast / Antagonist
2006

Majika

Juno

Ang Ganda ng Lola Ko

Kat

Q

Atlantika

Helena / Ruana
GMA Network
Main role / Antagonist
2007

Lupin

Ashley Calibre
Extended role / Antagonist

Bitoy's Funniest Videos

Herself

MariMar

Angelika Santibañez
Main Cast / Primary antagonist
2007–2008
Marimar Rewind
Voice of Angelika
Main role / Antagonist (Voice)
2008

Sine Novela

:

Magdusa Ka

Christine Dollente
Lead role / Protagonist/Antagonist/Protagonist

Obra

Rosario / Yvette / Myra / Elaine
Co-lead role / Antagonist / Protagonist

Gagambino

Lucy Gutierrez / Lady Mantisa
Protagonist
2009

Dear Friend

Kim
Main role

Rosalinda

Fedra Perez
Supporting role / Antagonist
Darna[1]
Serpina
Main role / Antagonist
2010

Angela Markado

Angela Markado
Main role / Antagonist
Langit sa Piling mo
Aurora TY
GMA Network
Main role / Primary antagonist
2011

2012

Munting Heredera
Lynette
GMA-7
Main role / Antagonist
2013
Indio
Goddess of Evil, greediness
GMA Network
Notable role / Antagonist
2014
Magkano Ba ang pag ibig
Margot
GMA-7
Villain role
2014
Magpakailanman
Alice Ledesma
GMA Network
Evil role
2015
Marimar (2015–2015) TV Series
Angelika Santibanez
GMA Network
Archived footage (2007; 12 years (2019) / Main role / Antagonist cast / Villain cast / Evil woman cast
2015
Ang Lihim ni Annasandra
Violeta Mampusti
GMA Network
Special Participation / Antagonist
2016
Wish I May
Maid
GMA Network
Protagonist-Antagonist
2016
Encantadia
Fatima de La Cruz
GMA Network
Supporting role / Main Antagonist
2016
Kontrabida/Villain woman
Macy / Kontrabida woman
GMA Network
Protagonist role / Main Antagonist
2016
Kambal Ni Adella
Eunice "Aice" De Leon
GMA Network
Reccuring role / Antagonist
2016
Sa Piling ni Nanay
Pure Evil mother / Scarlet Mercado
GMA Network
Main Cast / Antagonist / Villain
2017
D Orginals
Evil Mistress / Yvette Benitez
GMA Network
Co-lead role / Antagonist
2017
Magpakailanman
Maid
GMA Network
Main Heroine role
2017
Kambal, Karibal
Nida Generoso
GMA Network
Cameo Appearance / Antagonist
2018–2019
The Stepsisters
Isabelle Salvador / Evil Stepsister
GMA Network
New Main role / Antagonist
2018
Contessa
Fake Contessa
GMA Network
Extended role / Antagonist
2018
Love is.....
Clarissa Dimaculangan
GMA Network
Main Cast / Antagonist
2018
Love is..... Part 2
Clarissa Dimaculangan
GMA Network
Main Cast / Antagonist
2018
Love is..... Part 3
Clarissa Dimaculangan / Andi Benitez
GMA Network
Main role / Dual role / Both Antagonists
2018
Love is.....Part 4
Andi Benitez
GMA Network
Supporting role / Antagonist
2018
Ika-6 na Utos
Fake Georgia Ferrer Takahashi
GMA Network
Extended role / Antagonist
2018
Haplos
Second Minda Luciano (The protagonist mom) / Ayra De Malena
GMA Network
Main role / Protagonist / Antagonist

(Revealed to be a villain after killing the main antagonist/villain, Lucille.

2018
Impostora
Rosette Villaroman / Rosette Margaret
GMA Network
Main Cast / Antagonist

(Played by Kris Bernal (orginal), Sheena Halili and Katrina Halili

(Rosette is the most pure evil mom in the series/story).

2018
Pamilya Roces
Maisa Roces / Maisa Sampaguita Renacia Quirante
GMA Network
Main antagonist up until her fate
2018
Inday will always love you
Katrina Halili / Isabel
GMA Network
Guest Cast / Flirtatious girl (crossover character)

Main Cast / Antagonist ( The Stepdaughters)
Movies
[
]
Year
Title
Role
2004
Kilig... Pintig... Yanig
-
2005
Sablay Ka na Pasaway Ka pa
Raven
2006
Gigil
Chynna
Super Noypi
Annys
2007

Shake Rattle and Roll 9

Engkanto
2008
Romantic Island(Korean Movie)
cameo

One Night Only

[1]
Jasmine
2009

Sundo

[1]
Kristina
Dalaw
Daisy

Miss X

[1]
X